Civilian items: 5 things to buy
Photo: Courtesy of Civil Objects /
Whenever Ksenia Kagner and Nicko Elliott, founders of New York-based architecture firm Civilian Projects, travel abroad, they typically explore designer boutiques and specialist workshops. The perfect place ? A store that sells utility items that you could pass on to your grandchildren. In Rome, it's Poignee, a bespoke hardware store that all local architects working on historic projects use. In Berlin, it's the Manufactum department store, where they found an olive oil cruet that works really well. In London, they always stop at Labor and Wait, a place that sells British heritage brands and everyday items. (Their favorite is an earthenware salt shaker that was common in the kitchens of the 1960s and 1970s.) "I had to buy a bigger suitcase so that every time I went to London I could stock up." explains Kagner. "There is nothing like it here. It's either Amazon or Europe.
While this dichotomy is a bit hyperbolic, Kagner and Elliott's observation rings true: there really isn't a store in New York like Labor and Wait for beautiful, durable, well-made, and versatile housewares, where you can find everything from a just wall hook to a minimalist stoneware plate without having to think too much about it. And online, the search for such articles can be clouded by algorithms and paid reviews. So the architects saw an opportunity to fill the missing link with Civilian Objects, their new online home goods store, which launched today.
Ksenia Kagner and Nicko Elliott of architecture firm Civilian Projects have launched a new online home goods store called Civilian Objects.
Photo: Brian W. Ferry, courtesy of Civilian Objects
"The store is for people who have a very specific style or who have no style at all, because everything we offer will end up going into the background," says Elliott. "You could be as Memphis-y as you want, and nothing would conflict with our collection. Or you might just be a newbie and want to develop your own collection, and it'll all go together.
Architects are known to care about the smallest details that make products special or smart, and Kagner and Elliott are no exception. They came across the products they were selling while specifying items for their architectural projects. Bed-Stuy – and by word of mouth. The Kaymet Trays and Riess Dustpan, which they found while shopping for style items for Bard Dorms, will be arriving in the store soon. Most of the products Civilian Objects launches with are heritage brands like Manufacture de Digoin, the oldest sandstone company in the Loire Valley in France, which briefly went out of business before new owners brought it back in 2015, and Reiss, an Austrian enamel manufacturing company that has been in existence since 1550. Kagner and Elliott also collaborate with local artisans on special edition items, such as candlesticks from potter Jessie Lazar, broom from sculptor Erin Rouse, mantle work by Italian tailor Atelier Bomba and an apron with chef Kia Damon and kitchen brand Manhattan Tilit.
Inspired by architect Dieter Rams' "less but better" philosophy, Kagner and Elliott hope people who buy from Civilian Objects will cherish the utility and understated details of their items as much as they do. "We test things on ourselves before vouching," says Kagner. "None of this stuff is cheap. We don't expect people to buy a lot of this stuff, but we do expect people to use and care for it."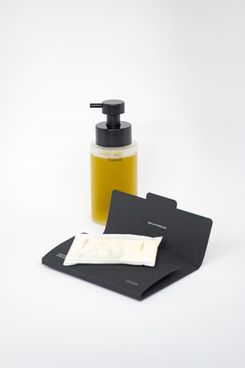 Photo: Courtesy of Civil Objects
"During the pandemic, we were all at home, and all these categories of life – what is work, what is fun – overlapped. The big idea for us is that in the future we will just have to understand how much work, leisure and rest are mixed together at home. We thought, We're going to have to enjoy this overlap as much as you can. We have therefore divided the store into these categories of activities. "Rest" includes bath products, which we stock at Forgo. It is a consumer brand of Swedish designers Form Us With Love that sells glass dispensers and dry soaps. The idea is that when you ship soaps and detergents, it's mostly water, so you can just add water yourself. –Nicko Elliott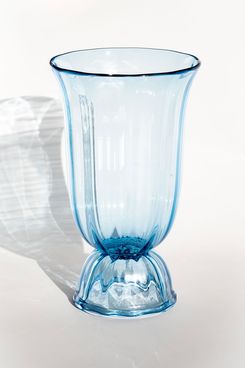 Photo: Courtesy of Civil Objects
"We're bringing the urn back in this collaboration with Andrew Iannazzi, a glass workshop in Boston. It is inspired by the Viennese Secession, which used many forms of trumpets. Andrew uses a Venetian technique which allows us to obtain a very thin but resistant glass by having a slightly thicker edge. –Ksenia Kagner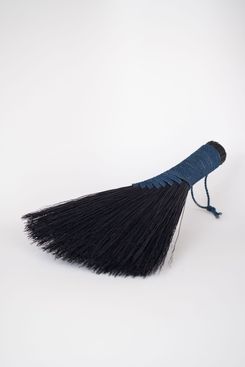 Photo: Courtesy of Civil Objects
"Custodian is run by Erin Rouse, a sculptor turned broom maker who has a studio in eastern New York. She is just an information hole and studies the history of brooms. She calls this style a "quintessentially American design". It is made from sorghum, an African plant imported to North America during the slave trade. It is related to cotton, which is grown in the South. The weaving has traces of African-American and Native American techniques. I was amazed at how beautiful and sturdy this design was and how it bears the marks of iterative techniques over time. For our collaboration, she tinted the broom with indigo and gallo dyes and changed the shape a bit. –BORN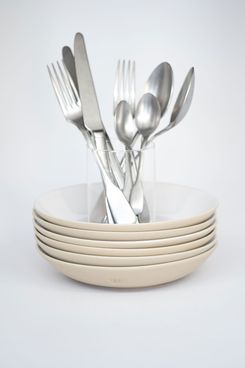 Photo: Courtesy of Civil Objects
"We have ceramics from the Manufacture de Digoin, which is a feminine takeover of a heritage brand. The factory is located in what used to be France's ceramic valley, but over time the companies all closed. A few years ago, a Parisian with a background in finance bought the factory and started producing again. Much of what they make are traditional water jugs and salad bowls, but they've just started making dishes, and we're the only ones selling them in the United States.KK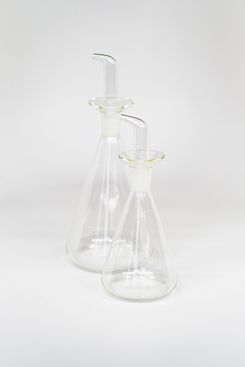 Photo: Courtesy of Civil Objects
"Trendglas Jena makes lab equipment, so everything is incredibly precise. This dispenser never leaks, and anything that drools gets caught by the rim of the glass. It's so perfect, easy and not messy. We bought ours from Manufactum in Berlin about four years ago, and since then we have always wondered why it was not available in the United States. It is the best product. –KK